AFFORDABLE 3D RENDERS BRISBANE
MEGACHEAP3D offer affordable 3D Renders Brisbane industries can utilise to achieve your ultimate goal of showcasing your development to potential clients for off plan pre sales or marketing.
We will beat any quote by 15% and are extremely confident that you will be highly impressed with your 3D renders that you will come back to us for more.
The Brisbane property development market is booming despite the COVID-19 impact on the economy. There are development areas that are poised for some exceptional growth in the next few years with new development opportunities. These areas include Indooroopilly, Chermside West and Hemmant among others suburbs of Brisbane. Utilising tools such as our 3D renders, 3D Floor Plans, Photomontages and 3D product rendering gives you a great selection of marketing and sales tools to get the best results for your developments. Not only are 3D renders excellent for sales and marketing, but also for submitting government or council plans and presenting to stakeholders.
3D RENDERS BRISBANE – BRING YOUR VISIONS TO LIFE
MEGACHEAP3D have a team of dedicated professional architectural visualisation artists and produce high quality, photorealistic 3D renders for the residential and commercial sectors.
Our mission is to produce the highest quality 3D renders for Brisbane developers and Real Estate agents at a fraction of the cost of our competitors and offer exceptional quality and service at the same time.
We are Brisbane's leading 3D rendering company. Contact MEGACHEAP3D today.
WHO USES BRISBANE 3D RENDERS
3D rendering gives industries new possibilities and allows the developers to visualise buildings, complexes, houses & marketing materials to create an immersive experience and the ultimate visualisation, therefore 3D rendering lends itself to many industries.
INDUSTRIES THAT RELY ON 3D RENDERS
Architects
Developers
Building Industries
Advertising and Marketing
Real Estate Agents
Retail Businesses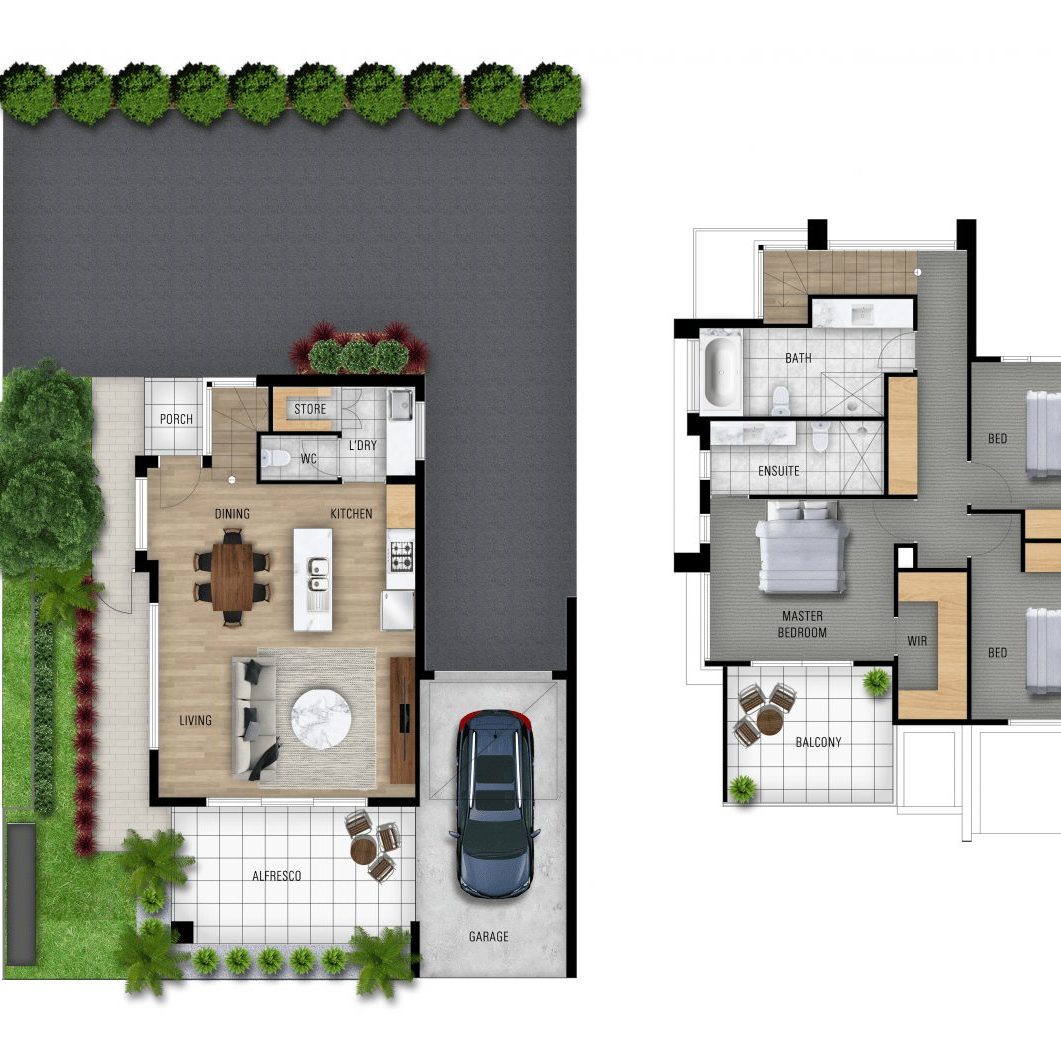 3D RENDERING SERVICES BRISBANE
3D Home Façade Renders are used by both major and DIY builders to showcase their designs in their best light. We work alongside some of Australia's Leading Home Builders delivering product ranges with such realism that their clients cannot tell the difference between our Renders and the final product.
Our Home Façade Renders are used in a variety of media including print, signage and online to sell to owner occupiers or investors. Our Home Facades are created with such life like realism and detail, it is hard to distinguish between the 3d Home Façade Render and the built product.
APARTMENTS & TOWNHOUSES
Multi-Unit, Townhouses and Semi Detached are popular amongst builders due to their high demand with not only owner occupiers, but Investors due to their price point and potential rental income. Being able to sell these successfully is the biggest key to an investment. Our 3D rendering techniques will bring such a high level of photorealism that your agents will be well equipped to maximise off the plan pre sales.
STREETSCAPES
With Multi Unit developments, it's important for potential purchasers to understand how their new home or investment will look against the natural surrounds or urban environment. Our streetscapes do just that. We maximise the look and feel of the development in the natural environment using photorealistic lighting effects. Excellent for selling the property to potential buyers.
COST-EFFECTIVE 3D RENDERS BRISBANE
If you are looking for the right team of digital visualisation specialists, look no further than MEGACHEAP3D. We work closely with you every step of the way, from initial contact right through to project completion and delivery.
Call our dedicated team in Sydney today and hear how we can package our Floor Plans with 3D Rendering to create cost effect Real Estate Packages for any project big or small. Call us today on 1300 962 436
"*" indicates required fields